Fancy exploring the shadowy tunnels beneath Waterloo station, chatting about Moroccan forgery or dancing to 80s music while dressed as a dead celebrity? Well, lucky you, it's all here, in this week's Pick of the Week. On top of that, there's contemporary dance, unusual photography, a course about French cinema and some political campaigning to keep you entertained and engaged all week. No excuses not to improve your life by getting involved with something creative, right now.


Performance – Chosen by Richard
The Old Vic in association with Punchdrunk presents TUNNEL 228
7-25th May, book online from 6pm Friday 1st May
Waterloo Station

Punchdrunk's latest performance takes place in a network of tunnels beneath Waterloo Station, formerly owned by British Rail. Handed a surgical mask on arrival, visitors will be free to roam through a magical underground world, bumping into performers and spectacular installations along the way. Producer Hamish Jenkinson of the Old Vic says: "It's a totally immersive experience - expect to be spooked, surprised, even grabbed by the arm and dragged into a one-on-one confrontation." It promises to be an incredible, one-off experience. Tickets are free, but limited – we strongly recommend you try and get hold of one.





Course – Chosen by Oyinda
Revisiting the French New Wave
Thursday 14th May and Thursday 21st May, 6.30pm
Studio, BFI Southbank

This course, which includes six two-hour sessions, is presented with the BFI in conjunction with King's College London. Each session will revisit a key aspect of the French New Wave, the 1960s film movement which revolutionised world cinema, making connections with the films shown in the BFI retrospective. Expert staff from KCL Film Studies will lead lively and accessible seminars, illustrated with extracts, introducing and discussing the films and a range of critical approaches. Issues will include New Wave style, major films, directors, stars, characters and narratives. Beginners and afficionados equally welcome.





Exhibition – Chosen by Alison
Ethelburga Tower: at Home in a High-Rise
The Geffrye Museum, Hackney
7 April - 31 August 2009

The Geffrye Museum is well worth a visit in general, to wander through the many ages of living-room-dom and dream of bygone eras. This exhibition looks like a perfect companion to the museum's nostaligic permanent collection. Photographer Mark Cowper has made images of the inside of 46 of his neighbours flats in the Ethelburga Tower in Battersea, showing how each inhabitant has made an identical shell completely unique. A good exhibition if you're feeling a bit anonymous in London's homogonous vastness, or alternatively, you just need a bit of interior design inspiration.





Performance – Chosen by Joanne and Rosalie
Under Glass, The Clod Ensemble in association with Sadler's Wells
Until 16th May at Village Underground, Shoreditch.

Inside the cavernous Victorian warehouse space of the Village Underground, The Clod Ensemble present Under Glass, an enthralling site-specific performance in which a collection of extraordinary human beings are contained in a series of glass jars, cabinets and test tubes. Choreographed by Suzy Willson, with an original score by Paul Clark, The Clod Ensemble's latest performance is an animated exhibition of human beings - an exploration of how we might live within our limits. Tickets are selling fast – if you want to go, we advise you book quickly, before it's sold out.





Exhibition – Chosen by Lisa
Art and Mental Illness
Wellcome Collection, London, until 2nd August. Free.

This multidisciplinary exhibition provides an insight into the ways madness was treated in Vienna in 1900, at the beginning of the industrial age, and encourages us to reflect on how we deal with mental illness 100 years on. Lisa's working on her Final Major Project, for her foundation course, on the theme 'Madness in the City,' and so has found this show a great source of inspiration. She also highly recommends the Bobby Baker show at the Wellcome Collection (19th March – 2nd August), which explore an artist's personal experience of her plight with mental illness.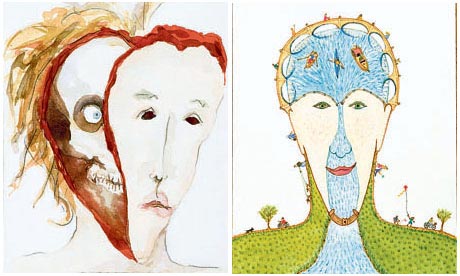 Event – Chosen by Oyinda
Fashion, Faith and Fakes: Playing with Commercial and Cultural Ownership in Morocco and London
13th May 2009, 5.30pm
Rootstein Hopkins East Space, London College of Fashion


The Research Hubs at London College of Fashion are running three seminars per term this year, with this summer's talks focusing on the theme 'Fashion and Faith'. For this conversation event, Professor Reina Lewis will host, with Moroccan photographer and designer Hassan Hajjij giving his views on issues of cultural ownership and authenticity. The event will be followed by drinks, so should be a good networking event for aspiring fashionistas and photographers out there. Email Rachel Jillions for information and booking.





Exhibition – Chosen by Holly
The Photographic Object
The Photographers Gallery, 24th April – 14th June.

Dissatisfied with the conventional function of photography as a surface that reproduces the external world, these artists test the materiality of their medium. Through a variety of distinct propositions, the images included trace an eclectic journey from the potential of photography to exceed its medium to relishing its hermetic and decorative function. By stitching, cutting, piercing and punching their films, images and sometimes even their cameras, the internationally renowned photographers in this exhibition explore the ambiguous space between two and three dimensions with unique and fascinating results.





Campaign – Chosen by Rosalie
Petition against Home Office restrictions on non-EU artists and academics
Manifesto Club

This week is was announced that acclaimed Iranian director, Abbas Kiarostami will be unable to come to London for his production of Cosi fan tutte at ENO after encountering problems obtaining a visa. This adds another production to the list of concerts and residencies that have been cancelled or fallen into complications due to new Home Office rules that alter the procedure for visa application non-EU artists and academics visiting the UK. Show your support to the campaign against these changes, already backed by the likes of Antony Gormley and Nicholas Hytner of the Royal National Theatre by signing the petition, writing to your MP, or attending the campaign's 'Cabaret Without Borders' event on the 3rd June.





Event – Chosen by Oyinda
'It's all been done – It's all up for grabs' – Contemporary Painting and History
15th May 2009, 10.30am – 6.00pm
Tate Britain Auditorium

How can artists find inspiration from modernist history and the more recent past? How can contemporary painting negotiate the boundaries of its discipline? In what ways can contemporary painting remain critical? Leading artists and theorists discuss these questions and more at this day-long symposium on contemporary painting at Tate Britain.





Event – Chosen by Richard
Celebrityville! is Dead! at Bethnal Green Working Men's Club
Friday 8th May, 8:30pm - 2am

And lastly… something to brighten up your nightlife this weekend. After two years in London, the hapless fake celebs that make up fancy-dress comedy cabaret night Celebrityville are calling it a day and hanging up their fancy dress shoes for good. This, the last ever Celebrityville party, will be an extravaganza of hillarous cabaret performances, poetry, party games and more, accompanied by barginous drinks offers and a trashy 8os soundtrack. The dress code demands that you 'come as your favourite deceased celebrity'… not to be missed!