In this Pick of the Week, we've tried to concentrate on things going on outside of the UK capital – and proudly include arts events happening in Brighton, Paris and Nigeria. This will hopefully be a breath of fresh air for those of you who're a bit sick of arts news frequently being rather London-centric. For the rest of you, it should provide some ideas for getting out and about in this month of bank holidays...


Event – Chosen by Oyinda
Amplified in Africa: the Lagos Sessions
Friday 1st May, 8pm until Late
Bambuddha, 21 (plot 1310) Karimu Kotun, Victoria Island, Lagos, Nigera.

Alternative soul collective Amplified travel to Nigeria for a very special event, taking their unique sound to the second largest city in Africa. The venue, Bambuddha, is one of Lagos' most select, with luxurious decor and a spacious bar and restaurant. Amplified are renowned in the black music scene for their inclusive ethos, and they successfully support and promote of black music not embraced by the mainstream. Great ethos, and even better tunes - altogether, it looks to be a good one!





Film – Chosen by Lisa
The Boat that Rocked

This fun yet thoughtful film is based on the story of Radio Caroline, the first pirate radio station and Britain's only way of listening to free political and radical music other than the 45 minutes of pop played by the BBC per day. Occasionally over-dramatised, but tastefully, Lisa's gone to see it twice already and says she wouldn't mind paying cinema prices to see it again soon.




Exhibition – Chosen by Frank
Kandinsky at Centre Georges-Pompidou, Paris
April 8th – August 10th 2009

This major retrospective is billed as the most comprehensive collection of Kandinsky's work for more than 40 years and presents over 100 paintings from all periods of the artist's career. The wide range of work included provides a chronological overview of Kandinsky's career, enabling viewers to get a real sense of the artists' inspirations and development throughout his life. Includes pieces from his early Jugendstill-influenced works, through the first abstract pieces of his Blaue Reiter days, onto the Constructivist-inspired canvasses of his Bauhaus period, to the Surrealist-influenced "biological" paintings of his final decade in Paris. The Centre Georges-Pompidou is definitely worth checking out altogether – clad in an amazing exposed skeleton of brightly coloured tubes, it has been a structural icon since opening in 1977.





Festival – Chosen by Richard, Rosalie and Joanne
Brighton Festival (2 – 24th May) and Brighton Festival Fringe (2 – 25th May)
Brighton Festival and the Festival Fringe start this weekend, and some of the Artsbloggers will be going along to sample the cultural delights on offer. For Pick of the Week, we've chosen the three events that we're most excited about - featured below.




Gig – Chosen by Richard
David Devant And His Spirit Wife
3 May 2009, 7:30pm
Fletch @ St Andrew's, St Andrew's Church, Waterloo Street
Fringe venue: 198, tickets £8.00, (£6.00 Concessions)

Heralded as the future of rock'n'roll by the Sunday Times, David Devant And His Spirit Wife remain the torch-bearers of great eccentric English Art Pop. In their early days they were known for their outlandish onstage antics and elaborate props, and they're back on collective top form after some time apart pursuing solo projects. Every show is a euphoric celebration of awe and wonder, and this festival highlight should be no exception.




Exhibition – Chosen by Rosalie
Sonic Art
Thursday to Sunday, 1pm until 8pm, until 16th May
Blank Studios, 108 North Street, Portslade, Brighton, BN41 1DG

Sonic Art is an exciting new show curated by Evolutionary Art's Mike Blow (Machines for Singing). A celebration of sound in art, the exhibition features experimental and noise music, field recordings, music played by light, and touch-sensitive metal plants. The work of 11 emerging and established sound artists is included, from the UK, Japan, France and Germany. A particular highlight looks to be 'Slinkaphonics', a giant sound sculpture made from 48 adjoining slinkys, created by emerging talent Sam Pearson. Other artists include Sabine Vogel, Yaporigami, Joseph Young aka field, Ali Ballard, Harry Neve, Simon Whetham, Bruno Mathez, James Caldicott, Mike Blow and Joe Aeberhard.





Exhibition – Chosen by Joanne
Smash Guru & Crystal Mind Fortress by Ed Wakefield & Matt Robinson
Until 7 June at Phoenix Brighton

Another intriguing-looking exhibition staged as part of the Fringe, this astonishing sculpture is made up of a maze of miniature landscapes, built from a myriad of plastic animals, extruded foam, Papier Machè, wires, scraps and molten 'goop'. As the artists put it: "step back and the body of a "supreme being" emerges from the crowded mass. This creature is the brain-child of a passionate adolescent/artist who, fuelling himself with shark cartilage, sweet drinks and pure adrenaline, creates an effigy of his beloved sweetheart. However, the object of his affection quickly morphs into a multi-armed monster, and we are left with the phantasmagorical projections of the artist's mind.'' Quite an experience if they are to be believed.





Event – Chosen by Carly
Alternative Miss World
2nd May 2009, 8pm
The Roundhouse, Chalk Farm Road, London NW1 8EH (OK, we snuck in a couple of London events at the end, we just couldn't help ourselves.)

This Saturday it's Alternative Miss World at the Roundhouse. A mish-mash of theatre, music, fashion and general fabulousness, join these exotic and rare creatures as they model daywear, swimwear and eveningwear for your delectation and battle for the title of Alternative Miss World. It is (as the website puts it) "a parade of freaks, fops, show offs and drag queens!" So for an evening of true decadence, creativity and mascara running down cheeks get to the Roundhouse! Tickets are expensive at £27.50 for standing, but this promises to be a right-rollicking good-time with a beautiful, big heart.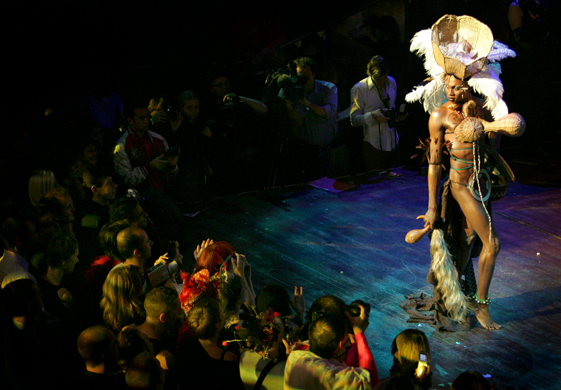 Festival – Chosen by Oyinda
Origins Festival of First Nations
At venues across London (again, sorry)
May 4th – 17th 2009

Origins is the UK's inaugural festival of First Nations creative arts, bringing together groundbreaking artists from the indigenous cultures of Australia, Canada, New Zealand and the USA. At venues across London, the festival explores First Nations experience in the twenty-first century through theatre, film screenings, and participation. Origins focuses on First Nations people's relationship to the contemporary, Westernised world. The festival considers today's vital issues from a First Nations perspective, addressing key themes from truth and reconciliation to the environment and climate change.





Music – Chosen by Sam
MGMT: The Youth
Lastly, here's some fashion inspiration for the weekend! Enjoy!



.