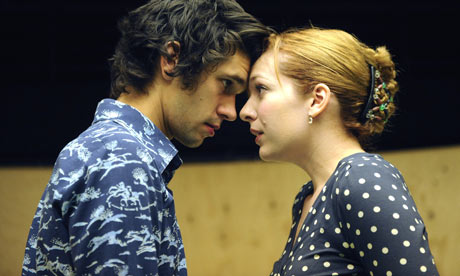 An hour and a half of laughs, irritation and few tears.


The Jerwood Theatre upstairs looked like it had shrunk when I walked in. An mdf intimate circular bandstand had been constructed for about 50 people, to create a theatre in the round. Even though I bitch about the West End theatre-goers for seeing a play just because it has denise van-outen in it! I am not ashamed in saying that I was attracted to the play for one reason. The ever so gorgeous and talented Ben Wishaw. Also the Royal Court has never disappointed me yet with a production.

The play is about John (Wishaw), and his struggle to know himself. John lives with his long term boyfriend (Andrew Scott) , who he argues with and eventually splits up with, temporarily. During the split he sleeps with a woman (Katherine Parkinson). This is when the real confusion starts with John, with both parties asking him to choose and define who he is.

The acting was completely believable which established the characters very quickly. I was mentally involved in the relationships between them all. The small stage and close environment made the play seem really personal, as did the emotional performances and content. The characters were expressing love and being in relationships and all the emotions that go with that. John's selfish actions caused upset and this was acted so passionately by Scott and Wishaw that spit was flying across the stage. I love it when that happens!

The writer of the play Mike Barlett did a really good job! The lines were very witty and intelligent with running comparisons and jokes getting bigger in each scene. It is the best piece of writing that i have seen onstage in a long time. There was no set and barely any physical action. And at one point there was a sex scene with only words and panting, letting the writing really shine out. Actions were not really needed for this brilliant script.

John's character started to get a little irritating towards the penultimate scene with his constant indecision about who he wants to be with whether he is straight or gay. Then came a moment of clarity for this weak character gave a long speech which spelled about the main messages of the play; it does not matter if you are straight or gay so don't try and define yourself and it showed the difficulty of knowing oneself.

The final scene of 'Cock' left me with tears in my eyes. The bright lighting and circular stage also meant that I could see the range of emotions that the rest of audience were put through, which was really delightful! Even if they were balling their eyes out!

If I could see it again I would, but I think it may be sold out. My night was finished off nicely with Wishaw and cast out in the Royal Court bar, but me and my mates got a little star struck and jittery so we had to leave before making fools of ourselves!
Read more...