The Artsbloggers have selected an incredibly diverse range of events this week, resulting in a Pick of the Week compilation that really does have something to suit everybody. Perhaps you're in the mood for a Greek tragedy? Or would you rather stay up all night dancing to UK garage? Want to make some recycled furniture? Or how about going walking in an urban wheat field? Alternatively, get involved in a festival about art and climate change, pick from a photography show or an illustration exhibition about imagined books, or attend a series of intimate performances in three ordinary people's own homes. It all sounds great, doesn't it?!


Exhibition – Chosen by Frank
Tom Hunter: A Journey Back
The Arts Gallery, 65 Davies Street.
13 June - 18 September 2009

This is the first UK retrospective of the work of UK fine art photographer Tom Hunter, and it looks like it's definitely going to be well worth checking out. The exhibition will encompass twenty two large format works which have never been exhibited together before, including two previously unseen works, altogether spanning four significant bodies of work. In the images, Hunter takes as his muse the people of Hackney, East London, and draws on the language of old master paintings, deploying their gestures, lighting and composition to imbue his subjects with a sense of drama and dignity.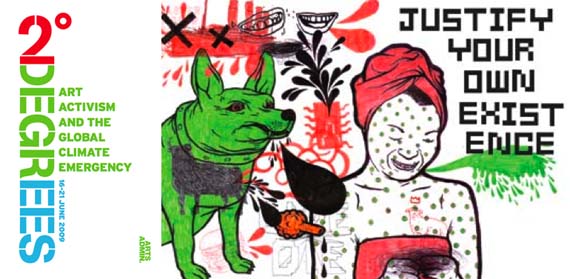 Festival - Chosen by Mark
Two Degrees: Art, Activism and the Global Climate Emergency
16-21 June
Plane Food Café £5, A Peachy Coochy Nite in association with TippingPoint £5,all other events FREE
Toynbee Studios, Commercial Street, London

Two Degrees is Artsadmin's week long programme of work by radical and politically engaged artists about climate change and our relationship with the environment. According to reports last month, a catastrophic 2C rise in global temperatures could be as little as 40 years away. In response to this, Artsadmin has brought together over 20 radical and politically engaged artists to create work that confronts climate change head on. A whole range of amazing activities and performances are planned, with as many events happening in the streets around the City of London as in the theatre at Toynbee Studios. Make sure you get involved, whether by sharing an organic picnic, exploring London's forgotten waterways, sampling an airline meal or foraging for food in the City. Download the full programme here.





Exhibition – Chosen by Alison
Invisible Library, INK illustration at Tenderpixel Gallery
June 12 - July 12 2009

At Tenderpixel Gallery, INK illustration collective are creating a collaborative "Invisible Library" which holds books that don't exist (yet) but have existed within other books. What a bloody great idea! Collaborating with writers from the online periodical Real Fits and other writers/cultural figures such as Iain Sinclair and Saci Lloyd, the first and last pages have been written and the covers illustrated. Throughout the month there's going to be workshops and events that fill the pages. Check out their blog for updates.





Event – Chosen by Joanne
Wifey
12th June at Visions Video Bar, Dalston
with GarageSpyro (Rinse FM), Emvee (Wireblock), Martin Kemp, Blazey (Bodynod/Sidewinder) v Shandy (Crazylegs), Ard Target, Luv's Tru Flavaz

Yes, yes, it's Wifey, the bimonthly bassline house night, playing a mix of UK garage, grime, dub and techno to make you smile and dance. The makeshift basement club Visions Video Bar in London's Dalston is a sight to be seen… you'll either take one look at the grubby white-tiled dancefloor and storm out in a huff, or you'll get right in there with the trendy haircutted and have the night of your life. I read some descriptions of Wifey that included the words 'bling', 'boiz' and 'beeyatches' (yes, spelt like that)… and yes, it's very cheesy, but if you want to grin and dance like an idiot, you'll swallow your pride (and quite a lot of overpriced beer) and get on in there.





Theatre – Chosen by Carly
Phedre, at the National Theatre and cinemas nationwide
25 June

Ted Hughes version of Phedre is playing at the NT - exciting in itself, especially since the beautiful Dame Helen and the popular 'Mamma Mia' star and 'History Boy', Dominic Cooper are in the cast. All very good, but that's not even the best bit. On 25th June, in a miraculous display of technological wizadry, NT will be offering people across the country, and even the world, that chance to watch this exciting production without having to leave their town/city (although if you live in a rural hamlet with no cinema, even this can't help you). On the allocated day, you'll be able to go along to your local cinema and watch the play live on the big screen for only a tenner! Now those of you in Newcastle, Wales and the far flung corners of the globe can enjoy this production from the comfort of your local, sticky-floored cinema. Although this raises those inevitable issues of the wonders of 'live' performance and how this will not be 'the same' (issues close to our hearts here at the Artsblog, after Artsblog Live Week's intensive discussion on this very matter), ultimately this seems to be a great step forward in removing London's stronghold on high-quality theatre. Phedre for all!





Event - Chosen by Rosalie
C.R.A.S.H Contingency Wednesday 17 - Saturday 20 June 2009, 7pm
Toynbee Studios, London E1
Free, booking required, 020 7650 2350 or book online.

C.R.A.S.H Contingency is an experiment in three acts, for 48 people, 20 wheelbarrows and a mobile compost toilet. The event will start at Toynbee Studios, and although not a lot has been revealed about the actual content of the four performances, there's a high chance you'll end up out on the streets, involved in an exciting night time journey, and gain an insight into a different way of living. This project is the outcome of the C.R.A.S.H Course, a month-long series of workshops between a group of precarious and unemployed workers and a collection of artists, activists and permaculturists which has merged elements of popular education, live art and direct action. See what they've come up with at the C.R.A.S.H Contingency, and take the opportunity to get involved youself. Dress for walking and the weather, and expect to be inspired.





Live Art – Chosen by Joanne and Holly
my site / in space, 12th - 14th June, Hackney, East London
10 artists, 3 days, 2 flats, 1 walk

This is the fifth edition of an ongoing series of site-specific performances by Live Art / Experiental Theatre Company Switch Performance. For each edition, Switch hunt out an inspiring space and convene a group of artists, who then make a set of performances in response to the space, within the two weeks after first encountering it. The result is an ephemeral moment, made in a flash and never performed again. This time, they've opened up their homes to ten artists, and invited them to create performances there and in the walk between them.





Workshop – Chosen by Rosalie
Summer DIY Furniture Workshop, Casamarels, Barcelona
3 August - 14 September 2009

Barcelona Casamarles is a non-for profit organization that aims to provide affordable living and working space for artists and researchers, located in a little village called Llorenc del Penedes, 50 km south of Barcelona and 10 Km from the Golden Coast. Using old and discarded furniture, this workshop for artists and other creatives aims to explore ways of furnishing your house using recycling and DIY strategies. The aim being to foster creativity and promote alternatives to consumerism. Their website promises that participants can expect 'traditional folklore, sun, good food (cooked between all of us), wine, trips to the beach and creative furniture' as part of the experience, which sounds pretty great. To apply, interested individuals should email a CV, statement and three pictures of their work before the 25th of May.





Installation – Chosen by Phillida
Agnes Denes, Wheatfield – A Confrontation
15 July 2009 - 6 August 2009, free, open daily 2pm–10pm
Off Dalston Lane, Hackney, London (entrance between Ashwin Street and Hartwell Street)

A pioneer of environmental art, Agnes Denes makes interventions into the landscape that frequently take the form of powerful performances involving the planting of trees or crops. In Wheatfield – A Confrontation, 1982, Denes planted and harvested two acres of wheat in Battery Park landfill in New York, situated between the Statue of Liberty and the World Trade Centre. It was an act of transplanting rural nature into the heart of an otherwise extremely dense urban environment. In July, Denes will restage the work for the first time since 1982, on the site of an abandoned railway line in Dalston, East London as part of the Barbican's Radical Nature programme. A sight to be seen!